Got blue-screened the first time I turn it on.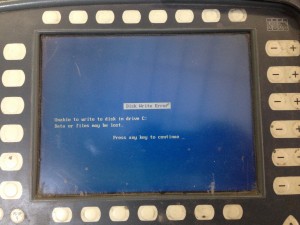 The fan in the back of the cabinet vibrates violently which ends up appearing to be the cause. Tim and I pulled it off, put some little rubber O-rings behind the screws, stuffed a bit of nylon in the slot for the bracket and it's running smoothly.
Followed Andrew's instructions to get to jogging it around – once it's all booted up:
Configure -> Special Functions -> User Group
Softkey: Expert
Password = kuka
Monitor -> Variable -> Single
set $gm_wo_plc to TRUE
Switch to the message window and "Ackn. All" messages
Push the softkey in the upper-left twice
Pull the dead-man switch on the back of the controller half way
Press any of the soft + or – keys on the right and that should jog it
And of course it didn't work.
Got a few messages left:
1033 Error on reading, driver: LPDN Ch 1 (and another for Ch 2)
200 Drives contactor off
1033 again for Ch2